In this post, we will show you how to use the Jaaxy keyword tool to find the best niche domain name. What is Jaaxy? Jaaxy is a popular keyword tool, which is useful for all levels of internet marketers, domain flippers, and other online business people's keyword tool, the most important thing is that it is free for Wealthy Affiliate senior members.
Tips: Wealthy Affiliate will be abbreviated as WA.
If you plan to build a niche website, in addition to learning some domain name selection skills when buying a domain name, buying a domain name that contains niche keywords will help the website SEO and make it easier for people to remember your brand. We will use some keyword tools to help us choose the domain name, Jaaxy keyword tool is the best one and can help you find the best niche domain name.
Jaaxy Find Best Niche Domain Name
If you do not have a Jaaxy account, it is recommended that you first register a Jaaxy account. Another method is that you can also register a Wealthy Affiliate account and become a premium member so that you can use the Jaaxy keyword tool for free. You can read the latest tutorials of the wealthy affiliate Learn more about WA.
Now I will first show you how to use the Jaaxy keyword tool to find the best niche domain name, so I will skip the step of registering a Jaaxy account. After all, finding the best niche domain name is the core work for us, how Registering a Jaaxy account will be introduced in the back part of the post.
Go To Jaaxy Find Best Niche Domain
---
Jaaxy Member Center
When you login to the Jaaxy Member Center
, you can see a page as shown below. You can see the four main function menus at the top of Search, Site Rank, Affiliate Program, Jaaxy Help, each function has different sub-options, in this post, we use Search -> Keywords to find The best niche domain name, of course, if you can also use it to find the best keywords you want to optimize ranking, this is also very useful for website SEO.

Enter niche domain keywords
After preliminary determination of the domain name you want to buy.
Now, we enter the keywords of the niche domain name, such as best motocross, and then press Enter. The search results will be displayed as shown below:
In the image, the first step is to enter the domain name keywords, and the second step is to click the Find Keywords button, or enter the keywords and press Enter.
---
Search Domains

When the list of available keywords is displayed, you can click the Search link in the Domains column to search whether the related keyword domain names can be registered. For example, as shown in the figure below, the best motocross only has domain names with .net and .org suffixes. It is available, which means you can only buy domain names with a .net or .org suffix.
Understand what keyword metrics mean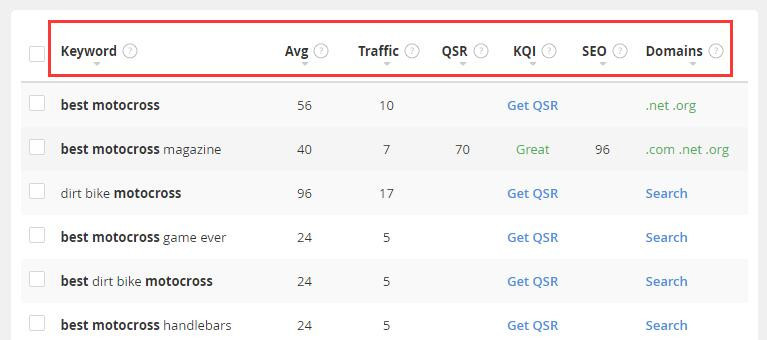 As shown in the image above, the search results show 7 columns of information, which means the following:
Keyword: The user enters a search engine to find the phrase of the desired content or a related keyword phrase.
Avg: The average number of searches that the keyword receives per month.
Traffic: Keyword search for traffic. Visits to your website if you achieve first page rankings in the Search Engines.
QSR: Quoted Search Results: the number of competing websites ranked in Google for this exact keyword.
KQI: Keyword Quality Indicator: Green is great, Yellow is OK, Red is Poor.
SEO: A score based on traffic and competition, the higher the score, the more likely you will rank for this keyword on the first page (scale of 1-100, higher = better).
Domains: Domain names available for registration. Generally speaking, it is the best result if a niche keyword can register a domain name.
Availability of domains that are related to the keyword.
What are the Pros of Jaaxy
Jaaxy is a powerful tool with lots of excellent features, let me enumerate some of them:
Almost no learning curve on how to use it
Very easy to use and a friendly interface
Lightning fast
Super accurate data
No unneeded stuff nor useless information to distract you
It's an online application, meaning you can use it on any PC, on a Mac or any other kind of computer
It's mobile-friendly, you can use it on any device such as your Smartphone or tablet
No software download or installation
Because there is no software download or installation, there is also no software acquisition cost
Updates/upgrades are done on its back end. You're always served with its latest stable version and you don't have to wait for any version update/upgrade
It can help you find good keywords to use on your online advertising campaigns if you plan to advertise on AdWords or any other advertising platform
Revolutionary in finding high traffic keywords with low competition
Gets data directly from Google, Bing, and Yahoo and combines it with its own proprietary data
Uses a hub of powerful servers on the backstage to calculate its results in seconds
Has good training material available
There's a fast and reliable support
Useful for all levels of internet marketers, domain flippers and other online businesspeople.
What Jaaxy Is Really For
Jaaxy is great for a lot of things including but not limited to:
Revealing unexploited high traffic niches
Searching and buying new domain names and flipping them later
Finding low competition keywords that make it easy to get instant rankings
Learning how competitive a keyword is
Taking advantage of Google's Instant Alphabet Soup technique automatically
Knowing how much traffic you can expect if you choose a particular keyword and rank for it
Brainstorming new niche and keyword ideas
Building to-do lists for your projects
Unveiling keyword metrics that will help you boost your SEO endeavors
Saving your keyword lists and organizing them by topic
Helping you decide whether you should bet on a particular niche or not
Knowing what's trending and popular on the web right now
Discovering affiliate programs for your niche and keywords
Figuring it out if there's money to be made in a particular niche
Showing your site and posts rankings.
And much more.
2 Ways to Register Jaaxy Account
If you have heard of Jaaxy for the first time, then we recommend that you immediately register an account to experience the rich features provided by Jaaxy. There are 2 ways to register a Jaaxy account.
Official Website Register
The Jaaxy member account can be independently registered on the official website. Jaaxy has 3 options for joining, as shown in the figure below. If you just want a free trial, using STARTER is enough. If you want to experience more functions, you can upgrade to a paid member.
---
Wealthy Affiliate Register
Wealthy Affiliate is an online training and online marketing community website established in 2005 by two American online marketing experts Kyle and Carson. We are not going to introduce it in detail here. If you are a novice, you can read here for more information.
After you become a WA premium member, you do not have to pay for Jaaxy separately, because WA premium members can use the Jaaxy keyword tool for free.
Join Wealthy Affiliate Start Your Online Business
---
Conclusion
Jaaxy is actually a powerful keyword research tool. In this post, we just use it to find the best niche domain name, and it is the same way to find SEO keywords. Every time you use Jaaxy to search for keywords, 20 query result information will be displayed in the result list, which can save you time for the manual query.
For domain name investors, if you find a high-value domain name in the search results, you can buy it immediately and build a niche website to attract traffic. When your domain name and website appreciate, then sell it, maybe return Can make some money.
Jaaxy keyword research tool review