Disclosure: Your support helps keep the site running! We earn a referral fee for some of the services we recommend on this page. Learn more
How to buy domain name at namesilo? the first thing to create a website is the need to buy a domain name, how to buy the domain name at namesilo? If you are buying the domain name for your website or you need bulk to buy a domain name, use the cheapest price to buy a domain name, and choose namesilo that domain registrar with good service, is that not a great thing?
If you plan to buy cheapest domains, this post may help you.
Buy domain name at namesilo – cheapest domains
So I introduced namesilo in the 2020 Best Cheap Domain Registrar Ranking article and ranked it as the number one cheapest domain name service provider.
Now, I will guide the novice step by step on how to buy a domain name in namesilo.
New User Register Account
If you are a new user, our suggestion is to register your namesilo account first, because one of the benefits of this is that it allows you to fill in as little personal information as possible when buying a domain name, which will save you the time to buy a domain name; of course this The first operation is not necessary. In fact, if you are a new user and have not registered a namesilo account, you will be prompted to enter complete personal information when purchasing a domain name, and the step of registering an account will be completed automatically.
So how to register as a member of namesilo?
Click the button above, will navigate you to the official homepage of namesilo, as shown below: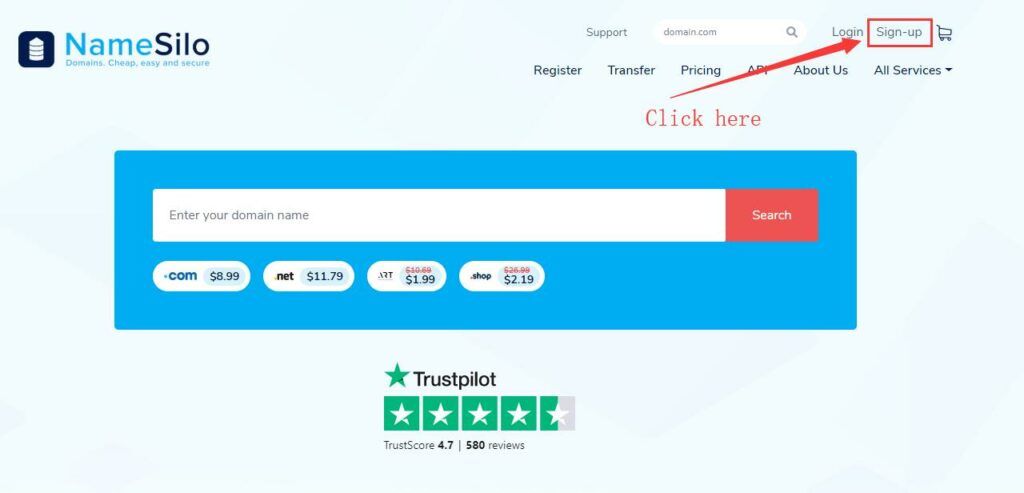 When you click Sign-up, you will enter the user registration page, as shown below:
After entering the page shown in the figure above, fill in your registration information according to the tips, and finally, click CREATE MY NEW ACCOUNT to submit the registration information.
If there are other operations, follow the tips.
Find you want to buy domain.
Namesilo's steps to purchase a domain name are also very user-friendly, supporting a single search and batch search.
Single Search
After the new user completes the registration or the old user logs in, you can enter the keywords you want to buy the domain name on the homepage of the namesilo official website, and then click the SEARCH button to query, as shown in the following image: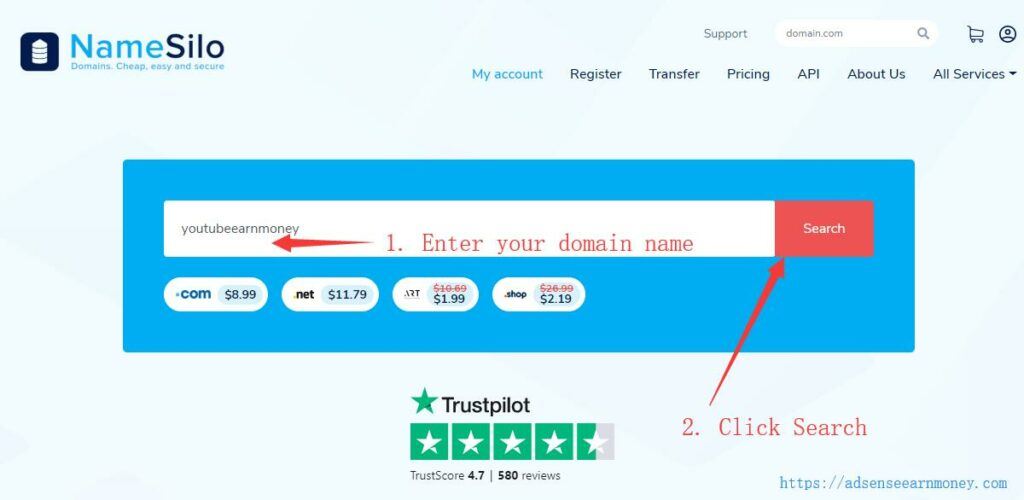 After clicking the red Search button, it will link to the query results page, where you will be shown whether the domain name keyword related suffixes you entered can be registered.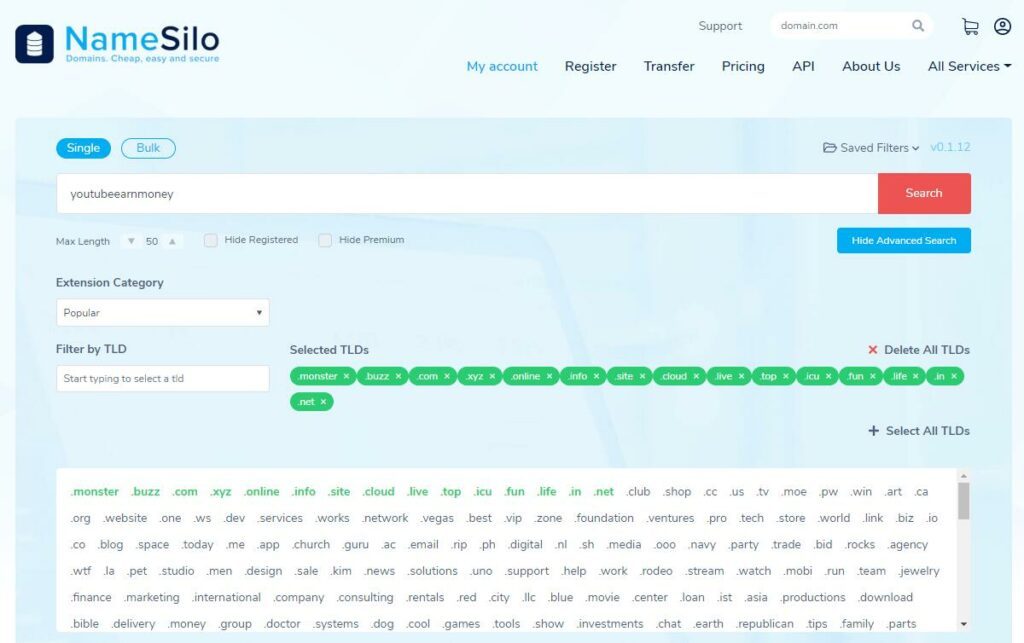 Through the above operations, we have completed the search method of a single domain name, so how to register domain names in batches to register?
Bulk Search
If you want to buy domain names in bulk, use the bulk function provided by namesilo to find the domain name you want to buy. Compared with a single way to find registration, it can save you a lot of time. This is a very practical function for domain name investors.
Namesilo provides 2 ways for batch search, batch search supports a maximum of 500 domain names.
The first way is to manually enter the domain name list.
The second way is to upload files, support txt and csv files.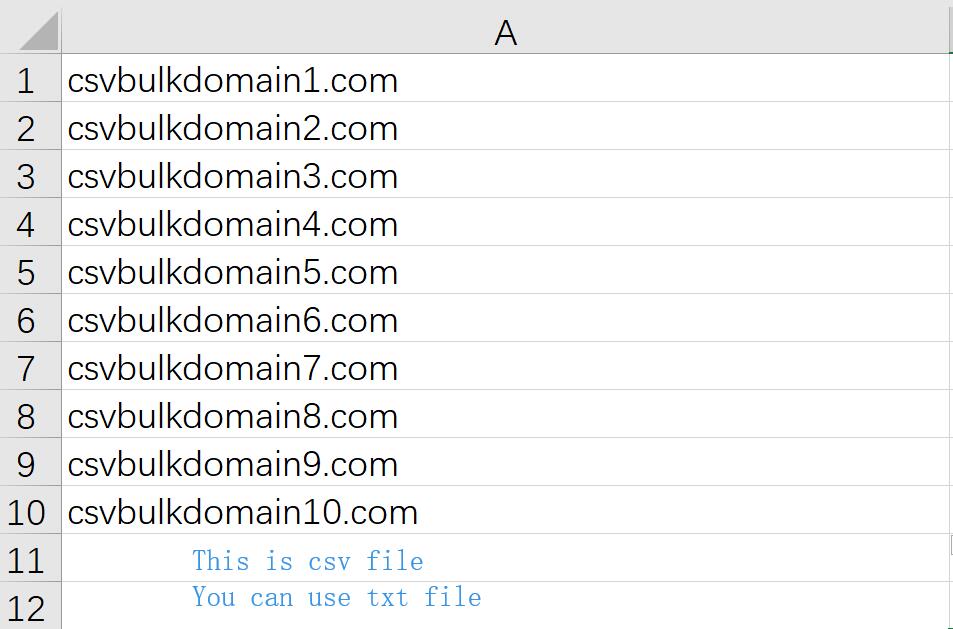 Do you think this function provided by namesilo is very practical?
If you buy more than 50 domain names in bulk, namesilo also provides additional benefits, click here for more information.
Tip: Regardless of whether you have logged in or not, you can also click the Register navigation menu to enter the interface for searching for a domain name.
Add You Domain name to Shopping Cart
After search domain name, if you are using a laptop like me because its screen is small, you need to scroll to the bottom and you will see a list similar to the one below.

For example, if you want to buy a com domain name, you only need to click the Add button. After clicking the Add button, the text of this button will change to Checkout, click it again to enter the payment page.

This completes the operation of adding the domain name you want to buy to the shopping cart. If you want to find another domain name, just repeat the above steps and add it to the shopping cart.
Confirm You Buy Domain Name
If you only buy one domain name, you can click the CheckOut button as shown in the figure above, and you will enter the confirmation page shown in the figure below. Here you need to set the information to buy the domain name.
1. Service Link (just keep the default)
2. NameServers (can be specified by yourself)
3. Auto-Renew (recommended to be set to Yes, to avoid forgetting to renew when due)
4. Privacy Setting (It is recommended to choose WHOIS Privacy. This is free)
5. Set all years to (the longer the time, the better the website)
Tips: New users can use coupon code: MECG982A to save $1
After confirming, click the CONTINUE button.
Payment
Namesilo supports 8 payment way, as shown below.
After confirming that it is correct, you can pay directly online.
After the payment is successful, you will get a prompt similar to the picture below.
We have completed all the operations of buying a domain name in namesilo, then you can enter the Domain Manager to manage your domain name.
Conclusion
Read here. If you are buying a domain name for the first time, did you understand how to buy a domain name at namesilo?
namesilo provides free privacy protection for the domain name you purchase. It also has many advantages, such as account security, renewal price, and registration price is consistent, transfer is very convenient, and so on.
If you want to know more information about domain name service providers. you can read: 2020 Best Cheap Domain Registrar Ranking